Bird News from Nial Moores with Mark Harris (and Matt Poll on 13 and 14 dawn)
Three days of great birding – at the Geum Estuary on May 13th; Yubu island at dawn on 14th, then the Geum Barrage, Boryeong and Shinji-Do (Taean) area on 14th; and Nami Seom and at Namyangju on the 15th. Weather was largely sunny and warm – peaking at 27C or thereabouts near Seoul on 15th.
In the Geum Estuary shorebird highlights among c. 50,000 shorebirds at Yubu and 10,000 shorebirds below the Geum baarrage on 14th inluded three Spoon-billed Sandpiper (one 2cy and two breeding-plumaged adults) at Yubu; tenNordmann's Greenshank at Yubu and at least four at the Geum barrage (including one fully in non-breeding plumage); and a breeding-plumaged Asian Dowitcher at the barrage (considered different from the one in late April based on plumage). Although the shorebirds were only poorly-checked (because of light and time constraints) other species of note also included breeding-plumaged Curlew Sandpiper and Greater Sand Plover at Yubu. Other outstanding highlights at the Geum Estuary included on 13th prolonged views of a Eurasian Eagle-Owl and best of all an adult Saker Falcon (although showing strong moustachials, ID was made on massive structure in flight and when perched, including occasionally obvious shorter primaries than tail; pale forehead and supercilium; and striking contrast on the underwing – with almost unmarked secondaries and bases of primaries contrasting with dark axillaries and especially habvily-marked undering coverts).
On 14th, single Arctic Loons inshore both at Boryeong (where also two Chinese Egret – one giving superb views as it fed) and near Shinji Do (Taean), where also five or six Chinese Nuthatch, a second calendar-year Narcissus Flycatcher, a Eurasian Wryneck, a male Chestnut Bunting and several Tristram's Bunting among migrant landbirds there.
On 15th, highlights included excellent views of a singing Yellow-rumped Flycatcher (one of at least six in song there) and Ruddy Kingfisher glimpsed (MH only) and heard at Nami-Seom, while in Namyangju best were prolonged views of a stunning male Black Woodpecker.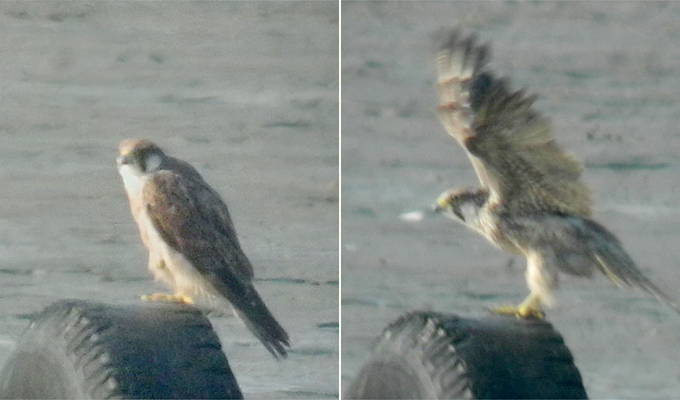 Saker Falcon Falco cherrug, Photo © Nial Moores
Arctic Loon Gavia arctica, Photo © Nial Moores
Chinese Egret Egretta eulophotes, Photo © Nial Moores
Yellow-rumped Flycatcher Ficedula zanthopygia, Photo © Nial Moores
Black Woodpecker Dryocopus martius, Photo © Nial Moores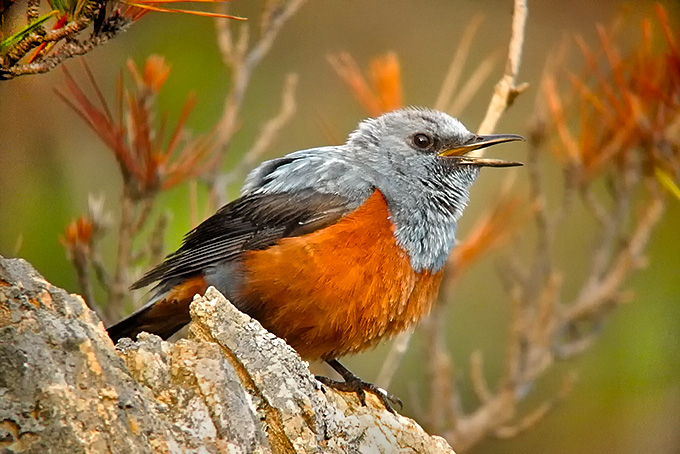 Blue Rock Thrush Monticola solitarius, Photo © Nial Moores