Bird News from Nick Addey, Pete Middleton, Dave Little, Steve Wignill ('Team Yorkshire') & Nial Moores

Bright and cold in a fresh breeze at dawn (with a minimum of -4C), rising to a warm high of 7C on the last day. At Namhansan, best was a well-watched White-backed Woodpecker, with several small parties of Eurasian Bullfinch and two or more over-flying Pallas's Rosefinch also of note. In Gimpo, massive habitat loss through the construction of the new Han River City (as elsewhere advertised as 'Eco-friendly'), with one open area of rice-fields, however, holding two Cinereous Vulture, two Rough-legged Buzzard, one Upland Buzzard, and several flocks of grey geese – including some very approachable serrirostris Tundra Bean. In one goose flock of a few hundred birds, the Tundra Beans were joined by several Taiga Bean, 50 or so Greater White-fronted and three Lesser White-fronted Goose (while only two were noticed in the field, several rather poor digi-scope images confirmed the presence of a third individual). On the Han River en route to the airport, in amongst the ice debris, 12+ White-naped Crane and two White-tailed Eagle were the obvious highlights.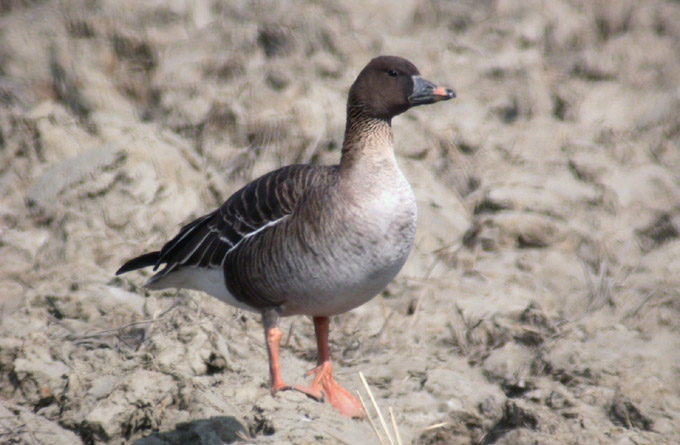 Tundra Bean Goose Anser serrirostris. Photo © Nial Moores

Rough-legged Buzzard Buteo lagopus. Photo © Nial Moores

Hwajin Po – Yangyang, February 17
Overcast, with a minimum minus 4C rising to a maximum of 2C at midday. With much of the land covered in snow, a slightly slower day still included some gull-watching (with close encounters with e.g. Slaty-backed and Common Gulls) and prolonged views from land of two Long-billed Murrelet, two Brunnich's and probably ten Spectacled Guillemots, two Yellow-billed Loon, and several small rafts of both American and White-winged Scoters. In woodland there, probably ten Pallas's Rosefinch and several Long-tailed Rosefinch, but no sign of the Yellow-bellied Tit seen here two weeks before. At Yangyang, still rather few birds, though these included a White-tailed Eagle and several Dusky and Naumann's Thrushes feeding along the river.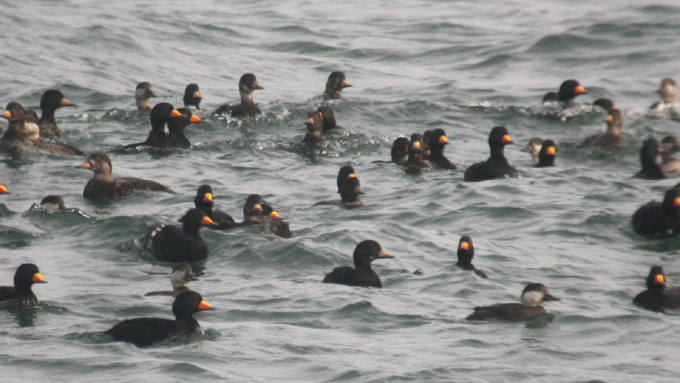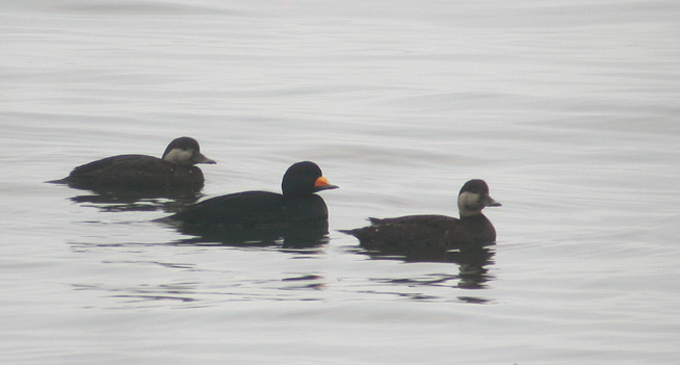 American Scoters Melanitta americana. Photo © Nial Moores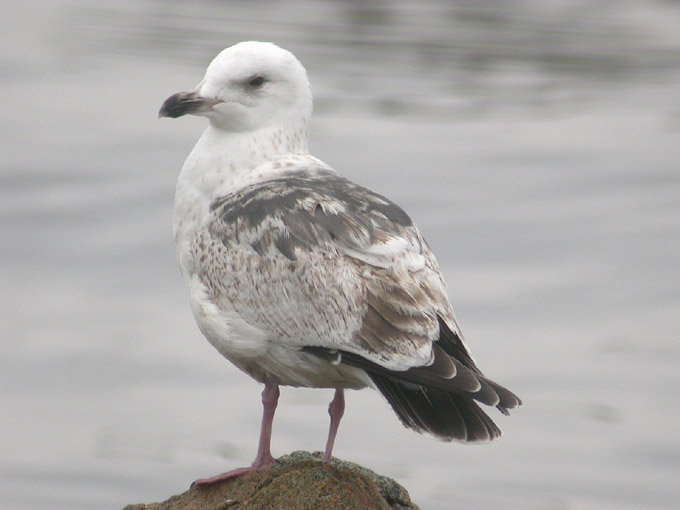 Slaty-backed Gull Larus schistisagus. Photo © Nial Moores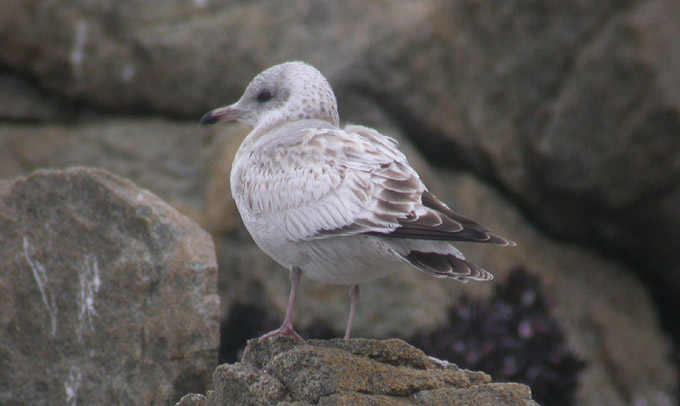 Common Gull Larus canus kamtschatschensis. Photo © Nial Moores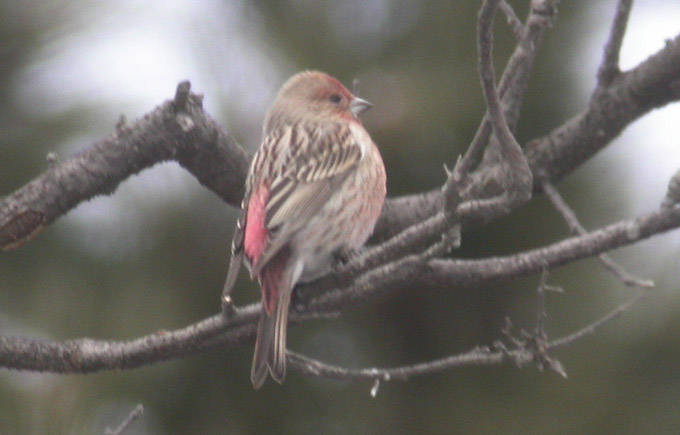 2cy Male Pallas's Rosefinch Carpodacus roseus. Photo © Nial Moores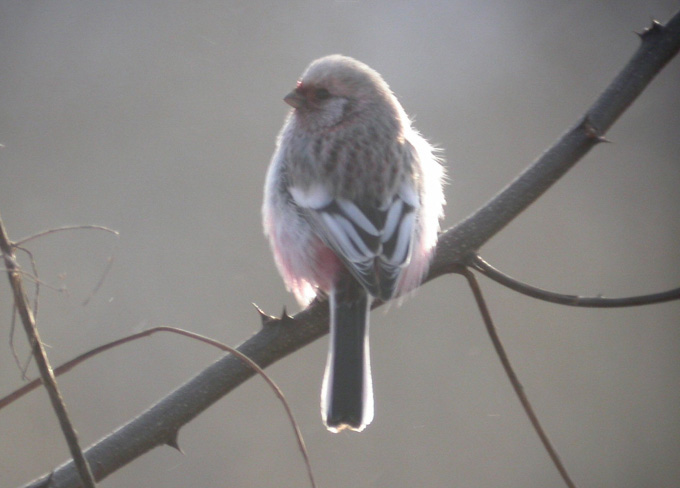 Long-tailed Rosefinch Uragus sibiricus. Photo © Nial Moores

Okgye – Yangyang – Hwajin Po (Boat), February 16
After a long drive through some of the deepest snow any of us had ever seen, seawatching at Okgye found two or more Ancient Murrelet and two Yellow-billed Loon, while little of note was found at a snow-covered Yangyang.
Three hours on a boat off Hwajin Po during the afternoon was much more productive, with calm seas and fair conditions. A new national high count of 105 Spectacled Guillemot was recorded, along with two Brunnich's and two Thin-billed Murres but only one Ancient Murrelet (what has happened to the normally large numbers of this species present off the east coast each winter?), and probably five more Yellow-billed Loon, in addition to several hundred Arctic Loon and tens of Red-necked Grebe.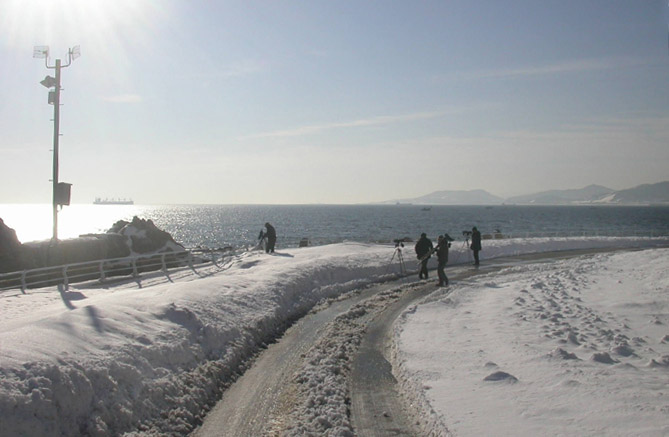 Seawathcing at Okgye. Photo © Nial Moores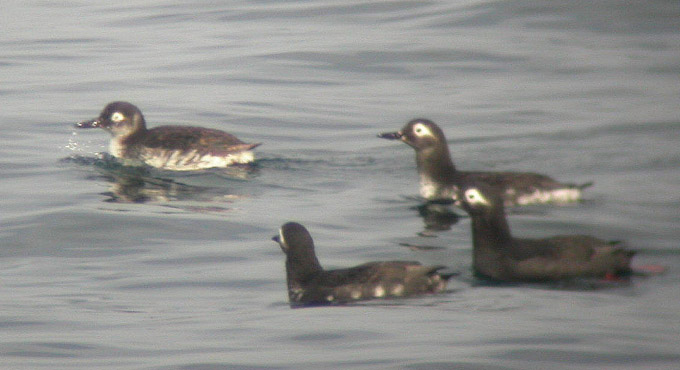 Spectacled Guillemot Cepphus carbo. Photo © Nial Moores

East Busan – Gyeongju -Guryongpo, February 15
-5C at dawn, warming quickly in Busan but remaining cool (with a maximum of 3C) further north. In Busan, four Grey Bunting, single Grey-headed Green and White-backed Woodpeckers, Ancient Murrelet and Japanese Bush Warbler were all seen well, as were flocks of feeding Brambling, Yellow-throated Bunting and Eurasian Siskin. Moving north, several thousand Rook and small numbers of Daurian Jackdaw were feeding in rice-fields near Gyeongju, while riverside vegetation held probably ten Meadow Bunting, one Chestnut-eared Bunting, three or four Siberian Accentor and perhaps 1200 Brambling ( broken up into several groups). The excellent birding continued at Guryongpo, with more Ancient Murrelet, two or more Rhinoceros Auklet, a single Glaucous-winged Gull, 700+ Red-breasted Merganser, 30+ Harlequin Duck, including one fairly close male, to close with a very large flock of Brambling (containing several thousand birds) going to roost.
Suncheon Bay, SE River & Joonam Reservoir, February 14
A cool dawn (-5C), followed by warming temperatures in the southwest, but by heavy snow and temperatures remaining at or below zero eastwards. At Suncheon Bay, more than 200 Hooded Crane (most watched distantly, some at very close range), with further highlights there another Rough-legged Buzzard, a single Japanese Quail and probably seven Chestnut-eared Bunting, (including one perched prominently for several minutes that was well digi-scoped by Team Yorkshire). On the SE River, monitoring of the wintering Scaly-sided Mergansers through the winter meant that 15+ were found easily and seen well, with single Long-billed Plover and Mandarin Duck watched there too in the same scope view as a Japanese Wagtail. 300 Brambling were also seen here, apparently moving north. At Joonam few birds in evidence after a day of snow, with best being several Pale Thrush and a Red-flanked Bluetail.
Saemangeum – Gomso Bay – Hwaum Temple, February 13
A cold start to the day (about minus 10C), warming gradually (especially southeastward) with a high of plus 4C. The day started with a sometimes thick, sometimes straggly line of Rook stretching several kilometres (likely totalling >20,000, with a further 5,000 -10,000 seen later), which carried with it a total of c.30 Daurian Jackdaw (including one fine pied bird). At the Mangyeung, bulldozers hard at work (as at so many other sites) converting one of the world's most important intertidal wetlands into nothing in particular – with best there 6+ Chinese Penduline Tit, and mixed groups of Common and Pallas Reed Buntings, while a large raptor remained unidentified. Near to the Dongjin, good views of a Rough-legged Buzzard, while at Gomso, four Oriental Stork, an unseasonal Osprey and a White-tailed Eagle. En route to Hwaum Sa, 17 Mandarin Duck seen well on a near-natural stretch of river, while at the temple itself, (only) five Hill Pigeon. Although hugely disturbed, one small patch of woodland there also held probably five Tristram's Bunting, single Pale and White's Thrushes and a Red-flanked Bluetail.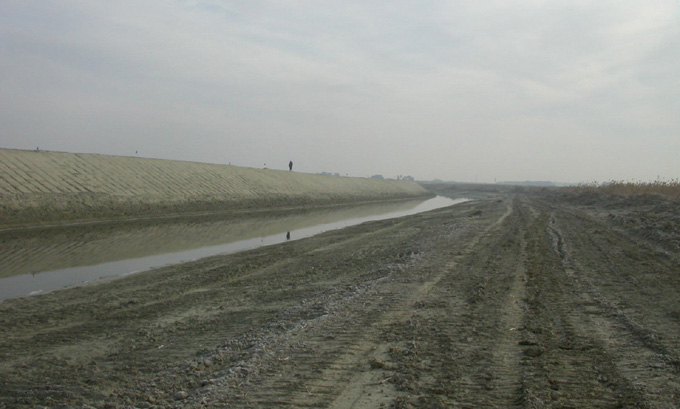 Destruction continues at the Mangyeung. Photo © Nial Moores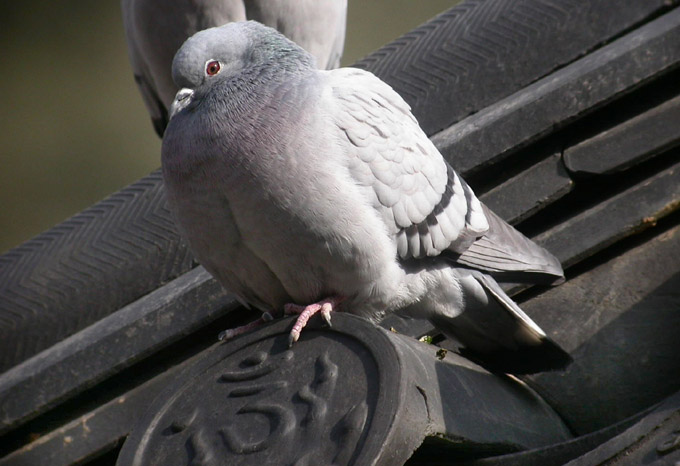 Hill Pigeon Columba rupestris. Photo © Nial Moores

Cheorwon – Han-Imjin – Geum River/ Estuary, February 12
Light snow flurries and -11C at dawn, followed by sunshine and a strengthening wind, with a maximum of only -2C. At Cheorwon, waves of White-naped (c 500) and Red-crowned Cranes (c 200?) shortly after dawn provided a spectacular start to the day, further supported by good views of e.g. both Pallas's (NM total c 20) and Long-tailed Rosefinches (c 15), Siberian Accentor (2) and Hawfinch (>50), with overflying Cinereous Vulture (total c 30), the asiaticus Eurasian Nuthatch still, and a Common Treeceeper. From there, via the Han-Imjin (completely frozen still), down to the Geum Estuary where searching was rewarded with four Long-billed Plover, two Common Greenshank (very unusual so far north in winter) and best of all, prolonged views of 64 Swan Goose. These were followed by 2000 Baikal Teal on the 'river' and even more spectacular, c. 20,000 Baikals rising and falling over rice-fields between Gunsan and Iksan at/after dusk.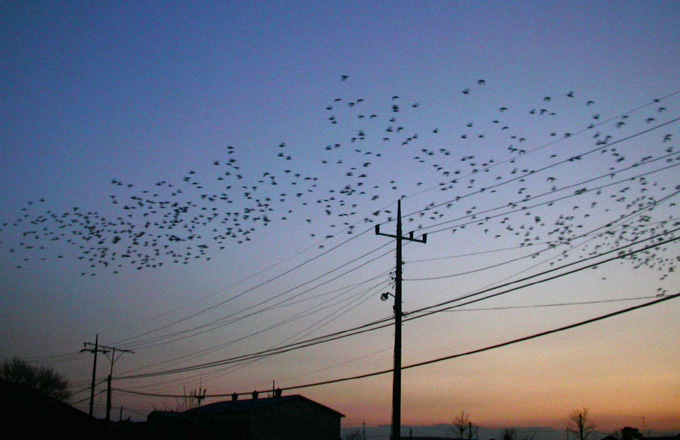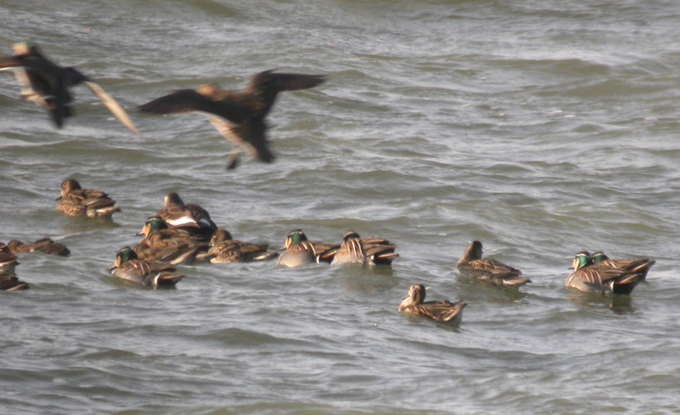 Baikal Teal Anas formsa. Photo © Nial Moores

Song Do – Han River – Arboretum, February 11
Cold at dawn and throughout the day (forecast as minimum – 8C / maximum – 1C). At Song Do on the falling tide, many more birds than two weeks earlier – with e.g. c. 600 Eurasian Curlew, c. 460 Saunders's Gull and outstanding highlight 14 Relict Gull (4 adults and 10 First-winters). At the Han River, probably 6 or so White-tailed Eagle and one adult Steller's Sea Eagle (the female), with further highlights including excellent views of a Siberian Accentor (one of three present) and a Water Pipit, briefly feeding alongside a Buff-bellied Pipit. By contrast the arboretum was decidedly quiet, though still everybody enjoyed brief views of two very wary Solitary Snipe, and. several Eurasian Bullfinch and good views of a Brown Dipper and Naumann's Thrush.