Bird News from Matt Poll
It's been a dynamic week on Jeju, with 85 species of birds observed. The mostly quiet week was punctuated by several busy and very birdy days midweek, right after heavy rain and SSW winds.
On April 26th, I visited Mara-do and Jeju's west coast. Mara-do was extremely quiet, with most notable being several Richard's Pipit, Grey and Brown-headed Thrush, and Narcissus Flycatchers. At least a dozen Streaked Shearwaters were seen from the ferry (which seemed relatively empty for a weekend).
Farmer's fields on nearby Jeju were buzzing with singing Far Eastern Skylark, Zitting Cisticola, Stejneger's Stonechat, and several noisy but frustratingly invisible Japanese Quail.
At a quiet Yongsu Reservoir, a pair of Garganey and a Chinese Pond Heron were notable. Pairs of White-cheeked Starlings were seen building nests in the supports for large highway signs at several west coast locations. A single Chestnut-cheeked Starling was following one pair around. Further down the road, the encouraging sight of a Red-billed Starling seen with nesting materials.
On April 29th, I was surprised when I opened to the door to my 5th floor apartment and heard a familiar call coming from the stairwell above. When I got upstairs, I saw a shaken Asian Stubtail that was trying to free itself from the building by bashing repeatedly into the closed window. I opened the window wide and left it alone, and happily it was gone 20 minutes later. One year ago on Gageo I had to rescue an Asian Stubtail from a small abandoned chicken coop, and several other birders have relayed their similar 'Stubtail in distress' stories to me. Why do Asian Stubtails seem to get themselves into these sorts of predicaments?
Asian Stubtail Urosphena squameiceps, © Mathew Poll
I visited Jeju's south coast around Jungmun on April 30th, looking for some evidence of migration after the rain. I tried out a new spot on a hunch and found a small oasis filled with flycatchers and warblers. On the quiet stream I found a pair of Blue-and-white Flycatchers, a shy male Yellow-rumped Flycatcher, several Asian Brown Flycatchers, and Yellow-browed Warblers. A few active Black-faced Buntings were also seen, with two females feeding in the open, as a male sang from a nearby treetop. Also seen were two Striated Herons in crisp breeding plumage, and a presumed Swinhoe's Snipe.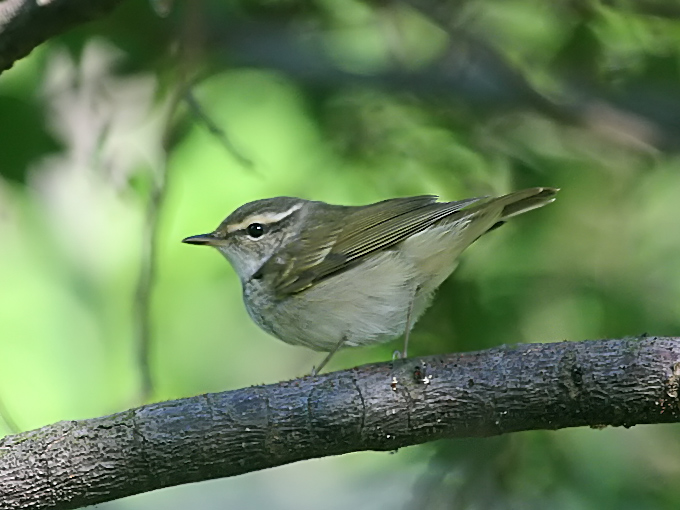 Yellow-browed Warbler Phylloscopus inornatus, © Mathew Poll
Encouraged by the rise in bird activity, I returned to these new spots on May 1st and one of the first birds I encountered was a Common Rosefinch. In a tree teeming nervously with flycatchers, white-eyes, and warblers, I saw a drab bird notable for its lack of movement. It was clearly a finch, with a strongly notched tail, (very) heavy bill, and streaked underparts. The overall drabness, heavy bill, light 'string-of-pearl' markings on the wings, and even the faint eye-ring were noted in the field, before it headed north, one tree at a time. I also heard my first Oriental Reed Warbler nearby.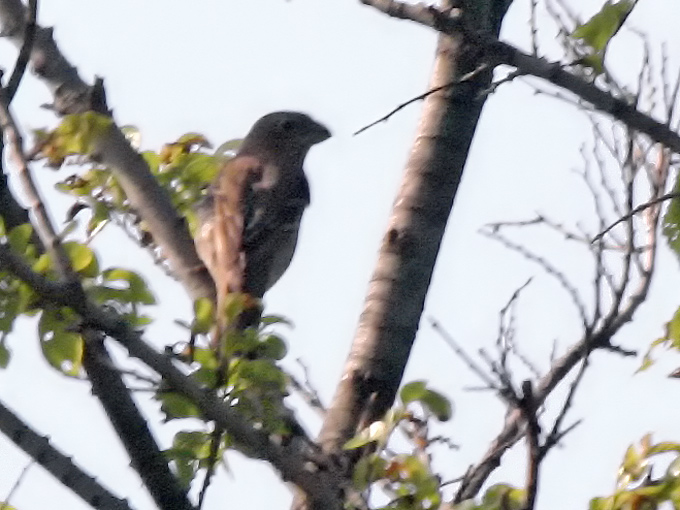 Common Rosefinch Carpodacus erythrinus, © Mathew Poll
Nearby, I watched a juvenile leucopsis White Wagtail being fed and watched over by an attentive pair of adults (do they breed earlier on Jeju than elsewhere?). On the 30th, the juvenile didn't fly, instead choosing to amble around and stretch its wings. Today it made several short, ungraceful flight-hops. A Eurasian Magpie that watched the young bird too closely was sent off by one of the adult birds, in a dramatic attack.
White Wagtail Motacilla alba, © Mathew Poll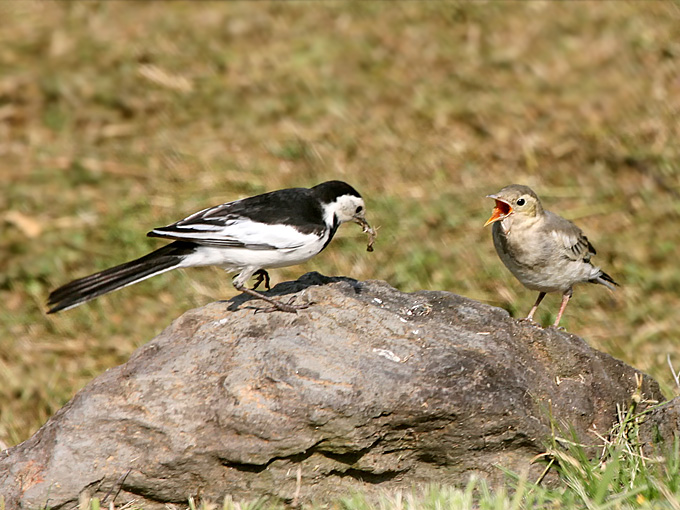 White Wagtail Motacilla alba, © Mathew Poll
In a nearby park, I quickly picked out at least six Yellow-browed Buntings and two Little Buntings mixed in with about a dozen Black-faced Buntings. A dozen Cattle Egrets paced nervously in the ponds. This park was very 'unbirdy' for the first several years of its existence, probably due to the intensive and gaudy maintenance – bushes and weeds were whacked down as soon as they grew past the ankles, and the grass was kept golf-course short. This year, however, for whatever reasons, the vegetation in the park has been allowed to grow more naturally and unchecked, and probably as a direct result, the feeling this year is drastically different. This park now feels like a functioning system filled with predators, prey, viable and varied habitat, and an impressive range of flora and fauna – as opposed to a sterile and unchallenging place to have a picnic. Inevitably though, the site is surrounded on two sides by new and massive construction sites. The development on Jeju over the past few years has been both staggering and thoughtless.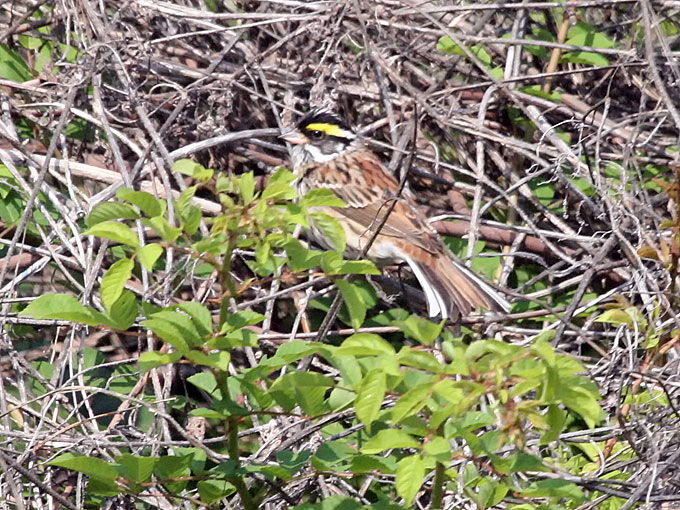 Yellow-browed Bunting Emberiza chrysophrys, © Mathew Poll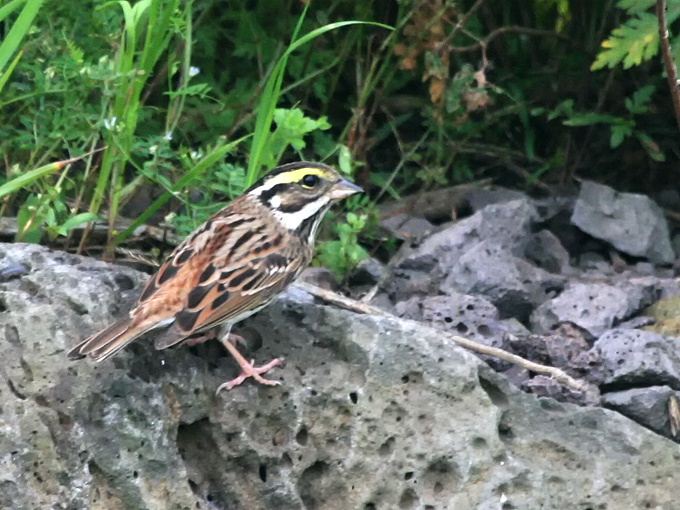 Yellow-browed Bunting Emberiza chrysophrys, © Mathew Poll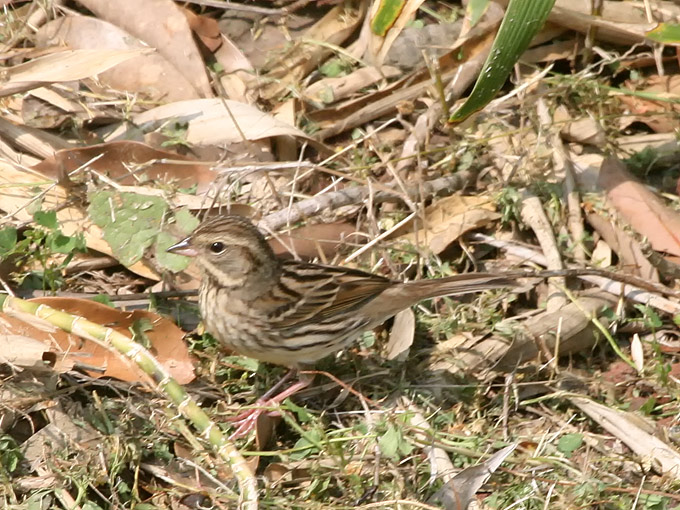 Black-faced Bunting Emberiza spodocephala, © Mathew Poll
On May 2nd, the two spots that were buzzing with birds were ghostly quiet. At dawn on a tourist-ridden islet in Seogwipo's harbour, best were an Asian Stubtail, Narcissus Flycatcher, and two Tristram's Buntings. In a field near Jungmun, I spotted two Chestnut-eared Buntings.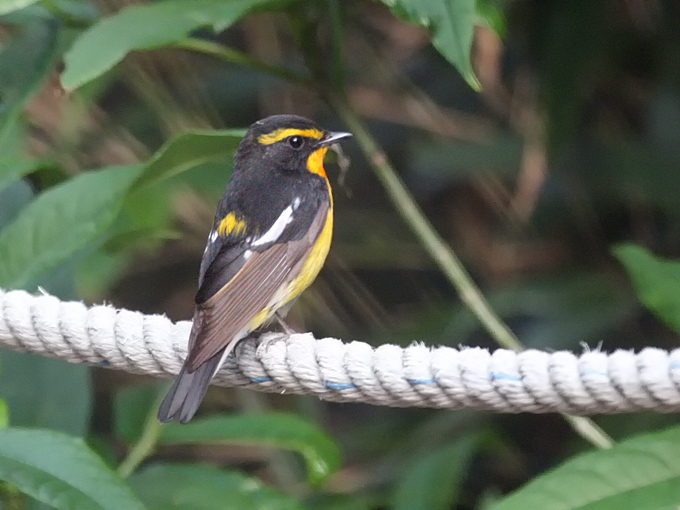 Narcissus Flycatcher Ficedula narcissina, © Mathew Poll
Tristram's Bunting Emberiza tristrami, © Mathew Poll