Bird News from Jason Loghry
Had an excellent afternoon of birding at Hwapo Cheon. My target for the afternoon was to find another large flock of vultures.  Conditions were dreary but it felt like that kind of day when a birder could  find something interesting. Luckily, there was very little wind. Upon arriving at the park, I realized quickly that it was a weekend (lots of noise!) and that the large vulture flock was missing. Still, there were about 40+ Cinereous Vultures, but mostly in flight with only a few on the rice fields near the main area of the park. There simply seemed to be too much disturbance.  Regardless, I was able to find one tagged vulture in close proximity (tag labeled J6). About three Korean Magpies were on the field beside this vulture. They appeared quite rambunctious and seemed to be bullying the poor giant, at times pouncing on its back. Still, the vulture didn't seemed bothered and remained near the roadside for the rest of the afternoon. Leaving the vultures I decided to get a closer look at the wetland. Most of the main stream was also disturbed, but after a short search around the park, I found a quiet spot that was full of birds. Here are the highlights:
6 – 10 Brambling  and 12+ Dusky Thrush observed perched in the trees surrounding the park.
3000 + Mixed flock of Taiga Bean Goose, Greater White-fronted Goose  with a few Tundra Bean Goose This large flock was first seen after it was flushed away from the main park. I later relocated it at a quiet, much less disturbed patch of wet, grassy habitat.
3 Lesser White-fronted Goose Scanning through the previously mentioned large flock, I found two separate Lesser, which immediately brought a big smile to my face. This smile then grew bigger and became permanent for the remainder of the evening as a third Lesser came running towards my viewing point. Although the evening light was fading quickly, I still managed to enjoy superb views of this gorgeous species.
5 Korean Water Deer This species can be regularly observed at Hwapo, but I have never seen them in the open like this before, nor have I ever seen them interact so closely with such a large flock of geese. The geese did not appear bothered, which made for quite a beautiful setting; four water deer playing and feeding across a large patch of green habitat with hundreds of geese.
1 Eurasian Eagle Owl was heard vocalizing from a nearby hill at dusk while watching the geese, as well as a Siberian Accentor calling in the bushes behind me.
1 Common Shelduck One was found alongside 100 + Buff-bellied Pipit and 2 leucopsis White Wagtail feeding on a muddy, wet patch of grass near the goose flock.
40+ Skylark A flock was observed on and off the rice field near the tagged vulture, but I was only able to get a view of one Far Eastern Skylark before the flock moved to a further patch of rice field
3 Species of Woodpecker: Grey headed Woodpecker (2), White-backed Woodpecker (2), and Japanese Pygmy Woodpecker (1)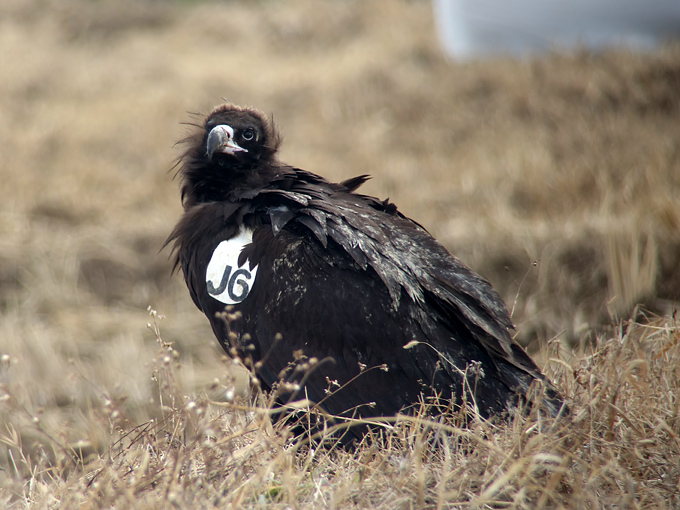 Cinereous Vulture Aegypius monachus tag labeled J6 , © Jason Loghry
Brambling Coelebs montifringilla, © Jason Loghry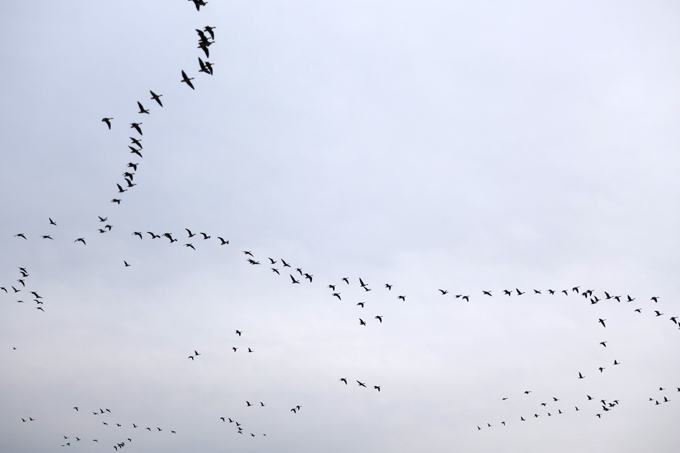 Hundreds of geese flying overhead near the main park, © Jason Loghry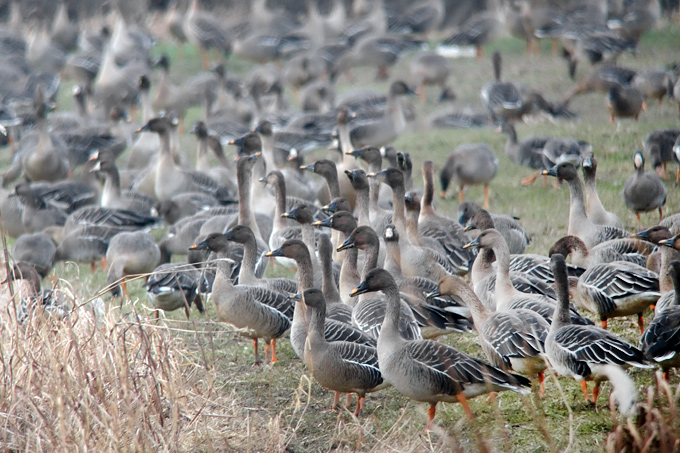 Some of the mixed flock of Bean Geese and White-fronted Geese, © Jason Loghry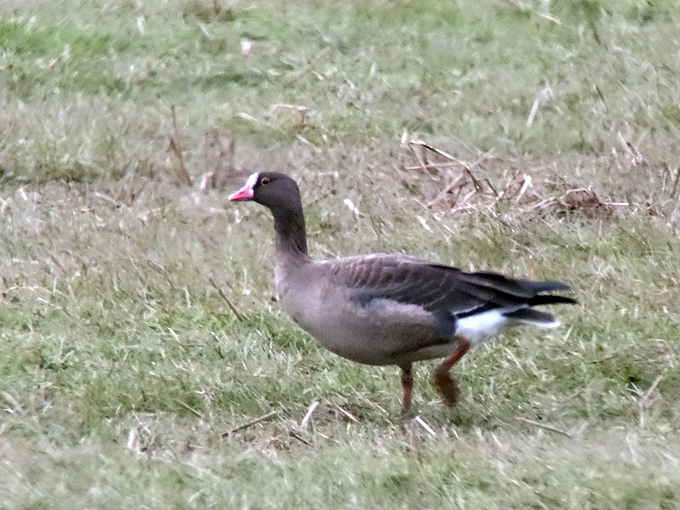 Lesser White-fronted Goose Anser erythropus, © Jason Loghry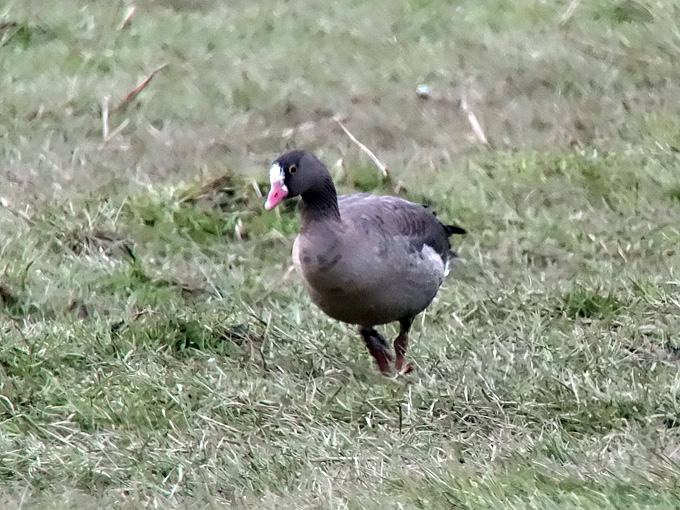 Lesser White-fronted Goose Anser erythropus, © Jason Loghry