Bird News from Jason Loghry and Charles Knight
We spent the afternoon watching birds at the main lake of Junam Reservoir on Saturday. The most numerous species observed was Eastern Spot-billed Duck, with 266+ on the lake. There were several Grey Heron, Great Egret, Intermediate Egret, Little Egret, and Cattle Egret, some on the lake and some in the rice fields. We scanned almost all of the nearby rice fields in hopes of finding a Watercock, but without any luck. Are there any records of Watercock at Junam? Barn Swallow were observed in flight and the constant ke-ke-bi song of Oriental Reed Warbler could be heard as we scanned through the lotus plants and water lilies.
Highlight of the afternoon might have been the well-showing Western Osprey diving for fish, that is until a closer look revealed a distant Pheasant-tailed Jacana in flight. After watching it land, we then decided to quickly move for better views from a different part of the lake. There we had slightly closer views, and to our surprise, found a second Jacana. We were more surprised to hear singing from one of the Jacanas and then shortly after that the two birds appeared to be mating. It was a short (10 seconds?) yet brilliant moment that I wish I had been able to see more closely. After some wing flapping, the bird on top then flew a short distance away and appeared to be feeding.
Western Osprey Pandion haliaetus, © Jason Loghry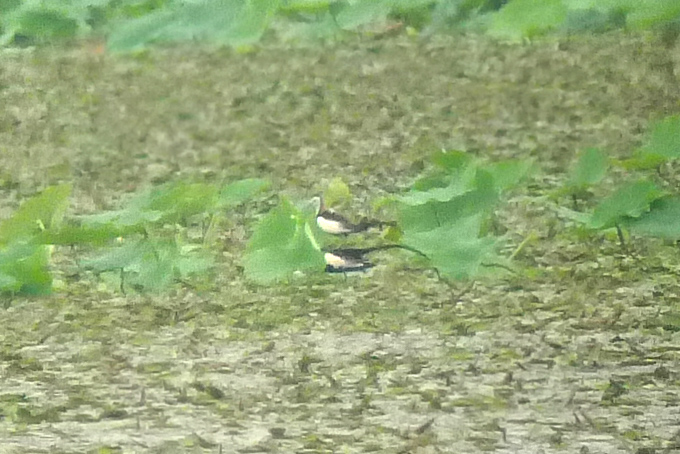 Pheasant-tailed Jacana Hydrophasianus chirurgus, © Jason Loghry